Ancient Monuments of the Mississippi Valley
Butler County Circle From Ancient Monuments of the Mississippi Valley (See Squier & Davis Book Below)
"Little can be said respecting it, except that it is a circle of considerable size, bounded by an embankment, at present about two feet high, composed of earth taken up evenly from the surface, or brought from a distance. It has an entrance to the left, two hundred and seventy-five feet wide; the embankment upon either hand terminating in a small mound, between four and five feet high. The area of the enclosure is level, and covered with forest: the trees are, however, small, owing probably to the nature of the soil, which is thin and gravelly. The plain is here fifty feet above the adjacent bottoms.
About a mile north-east of this work, on the opposite bank of Indian creek, are three large mounds, on a line with each other. On the lower bottom or terrace, opposite to each mound, is a corresponding hole or excavation, from which the earth composing them was doubtless obtained."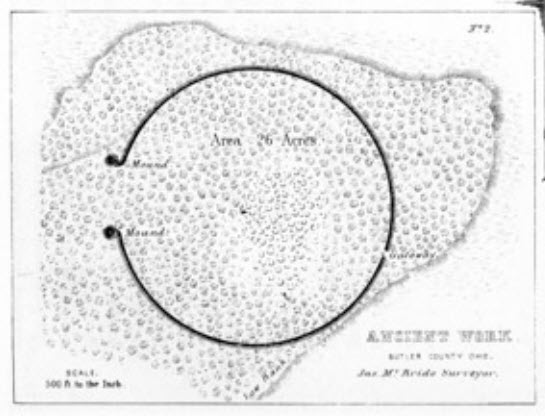 Butler County Circle GIS
Approximate Location
Approximate Location and size
Choose your basemap, Select + or - to zoom, use mouse or finger to move.