Bremen Ohio Earthworks
Bremen Earthworks were located at the confluence of Rush creek and Little Rush creek. The rush creek is a tributary of the Hocking River. The town of Bremen was built upon it.
Google Map
Historical Document
W.W. Keemper
"These Geometric Enclosures were concentric ellipses in form; there were two. One smaller, built within a larger enclosure with a probable intervening space of one hundred feet and openings to the east, probably on Walnut Street at Broad Street.
Mr. Rowles informs me that he helped his brother cultivate the area within the outer Enclosure, the inner one having been leveled before his birth (1845). The outer Enclosure was approximately six or seven feet high. Two artificial openings were cut on Fort Street, one to the north, the other to the south, thereby, making it easy to access in cultivating and the harvesting of crops, cultivated within.
In the plat of the J. E. Purvis section addition, Fort Street was so named because of its "running thru an Indian fort" of former days.
In establishing the former site of the Enclosures, the four points known to Mr. Bowles were on the properties of Mrs. Alice Bradford, M. C. Frashure (J. E. Purvis), and Luella Humphreys which marked south, west, and north boundaries, respectively. These are located upon what was the outer ellipse. Mr. Wm. A. I.auffer's property is located upon the west by the south side of the inner Enclosure. Mr. Bowles' grandfather told him of the inner Earthwork and its location.
The Enclosures originally were upon the half section of land purchased from the U. S. Government by William Stuart."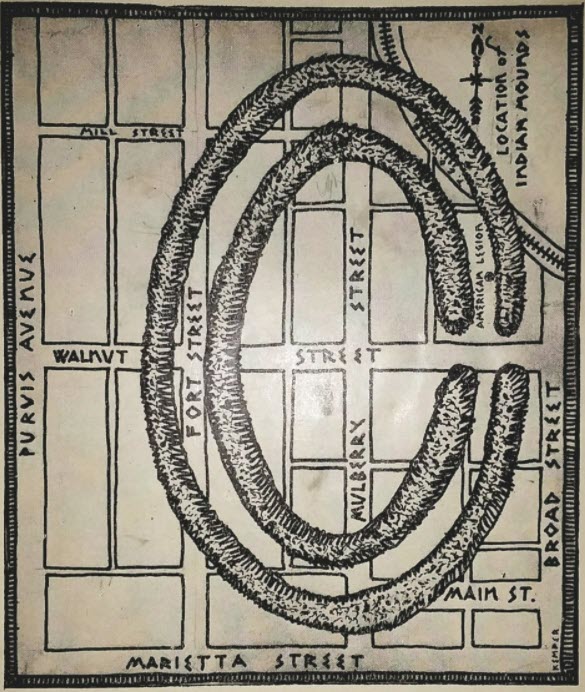 Bremen Earthworks GIS
Choose your basemap, Select + or - to zoom, use mouse or finger to move